THANK YOU, Therese Patricia Okoumou!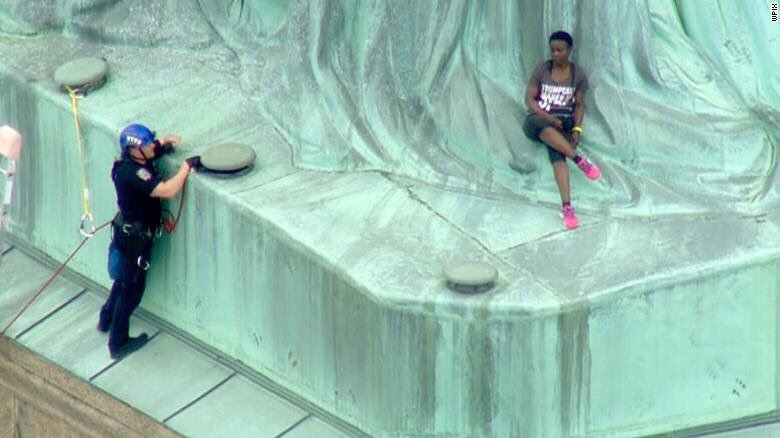 In an era of thumb thugging and social media activism, Therese put her body on the line. She kicked the Abolish ICE protest up a notch on July 4th and thousands (probably millions) missed the point. People admonishing her for disrupting people's good time pretending that the Statue of Liberty was still the beacon of hope in the harbor it used to be. As it stands now, in this current state of America, Lady Liberty is a liar. People being separated from their children for seeking asylum. People being deported en masse. People who believed in the promise of the United States are having their beliefs shattered... natural born citizens included.
One African immigrant brought international attention to this. and for that she was both deified and vilified. And honestly, I am tired of it. Women of color have been stepping up to the plate, saying what needs to be said, doing what needs to be done and either left on a pedestal alone or knocked down, beaten and tossed under the bus by the very people for whom they were fighting (See Alexandria Ocasio-Cortez and The Honorable Maxine Waters). I'm over it.
Throughout my life I have been the voice of what everyone was thinking. But time and again I was met with fake shock that I would say that and once I even remember a room full of people actually looking away when I said what we had already agreed needed to be said. I'm over it.
In the shadow of this event, a black male veteran of these United States chastised women for "being naked" in the midst of a heatwave with indexes upwards of 100 degrees. He basically said they deserved to be disrespected because apparently "being naked" in the midst of a heatwave is an open invitation. In his mind, there is no weather warm enough to warrant bandeaus and booty shorts. Black women should use their super strength to bear the heat in more clothes and if they do not, they should use that super strength to defend themselves in the face of harassment because he was not coming to your rescue. this vet who fought for freedom made it clear it did not include the freedom to dress as you please and be able to do so without harassment. I'm over it.
As always, this is not what I intended to write on so this may be all over the place but let me say this:
Black women are not your superheroes. Black women are tired of saving your day, speaking your piece and being left to take the heat alone. Black women are tired of advocating for people's rights, taking stands against the system and being told we will not be protected. I'm over it.
Please note that Therese's protest was not a "planned" part of the Abolish ICE demonstration as the other protesters were quick to point out.... also, this is not Therese's first protest in the name of discrimination!
THANK YOU, Therese Patricia Okoumou!